A modern-day solution for modern-day problems
Bulk SMS & Voice Call/OBD Calls
OBD/IVR is the way to go in the current context of reaching out to more potential customers and serving existing ones at the least cost and project a better brand image. You can implement new campaigns, handle existing ones efficiently and use this OBD/IVR facility for a variety of purposes. Reports keep you updated about call status, location status and you can get a fair picture of returns.
Bulk SMS & Voice Call/OBD Calls
India's No. 1 Bulk Messaging Platform Low Cost, Best Services, 100% Delivery.
We are leaders of Bulk SMS and short code solutions. We offer Bulk SMS Services, Email marketing, Provide business email ids with your business name.
Today the application-to-person SMS messaging services have evolved to include bulk SMS messaging alongside the sending of single messages (such as one-time passwords and delivery notifications), interactive messaging (such as group messaging services), and incoming number services (such as mobile marketing campaigns, voting or information lines).
A defining characteristic of bulk SMS messaging is that businesses and organisations can make use of one or more solutions to send and receive SMS messages, namely; a mobile phone application, a software programme, a web interface, or integrate an SMS API with their website or system. These bulk SMS messaging solutions interface with a service providers' SMS gateway to ensure the delivery of messages to mobile phone numbers anywhere in the world.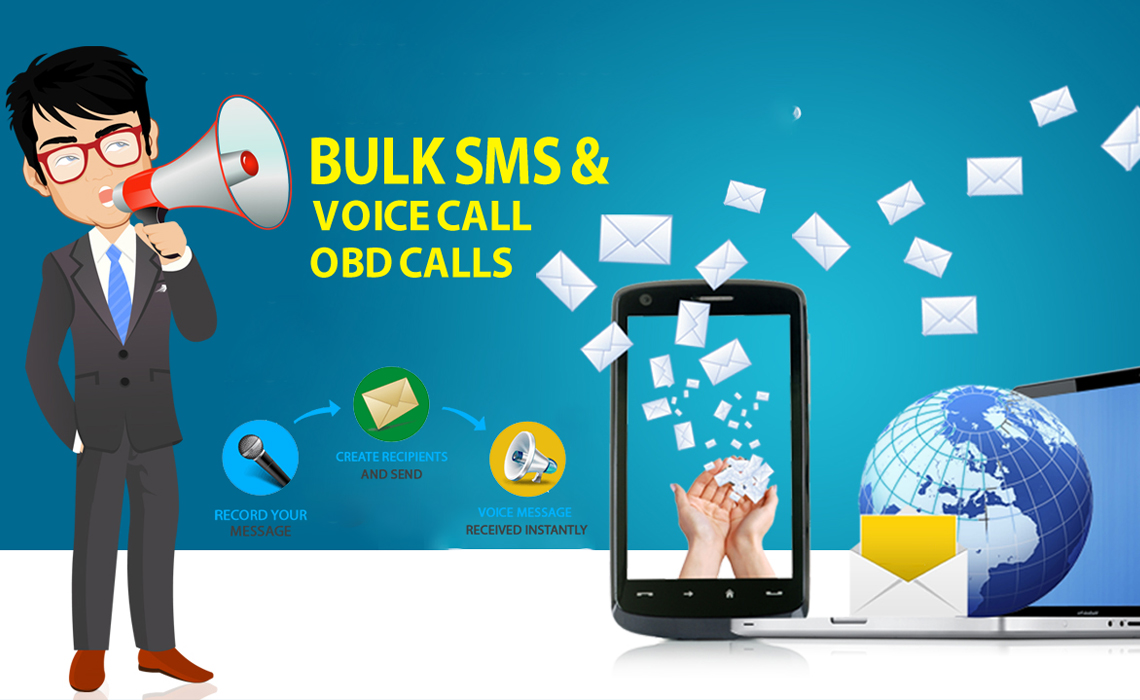 We deliver a better Messaging and OBD experience
Optimize your customer experience
across the entire lifecycle.
05 Steps
Easily send powerful bulk SMS campaigns
Effortlessly personalize your bulk SMS with names or custom fields, compose in multi-languages, schedule/stagger your sends, add opt-out path and more. Get best-in-class SMS delivery.
Let customers choose the channel
Serve customers over the phone, chat apps, SMS, email while managing all communication from a single platform.
Quality connections everywhere 
We provide you low-latency, high-reliability interactions. It's easy. It's secure. It's global. Get access to our own infrastructure.
Intelligent delivery
Redundant connectivity and intelligent routing ensure your message follows the best delivery path with the lowest latency to ensure fast and successful delivery of every message, every time.
Real time analytics
Get real-time analytics at your fingertips, including delivery reports, so you know exactly what your customers have received.
Get your message across and boost your communication with our service, on any channel
Need a hand?
Reach out to the world's most reliable IT services.
Reach out now!
Start the collaboration with us while figuring out the best solution based on your needs.